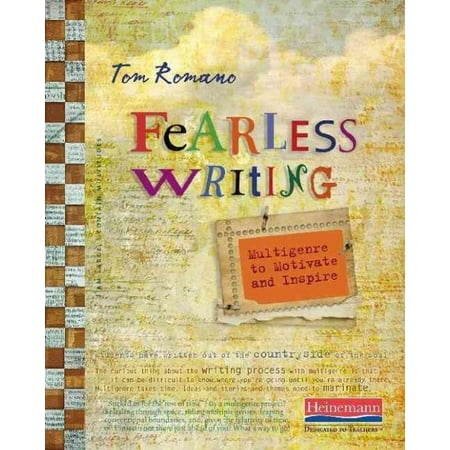 I'll be honest you guys, I devoured this book. I couldn't get enough of all the information that Romano was throwing at me. Don't get me wrong I loved Penny Kittle's writing, but this book drew me in from the very beginning and I swear it just never let me go. So, if you don't know Tom Romano you need to start looking up his work right now. This is the second time I've read something by him, and not only is his writing informational, but he also gives you more than just the information that you are expecting. He gives you feedback from students, he tells you what has and hasn't worked for him, and he is willing to admit to the times that he has failed.
This book is entirely about multigenre papers, and how to implement them into the classroom. I was first introduced to multigenre papers in Kittle's work, and I had wanted to learn more about what they were. When Dr. E introduced this book in class on Tuesday I knew it was exactly what I had been looking for to build off of my last professional development book. I dove into the pages hoping to learn more about this elusive idea of a multigenre paper, and how I might begin using it in my own classrooms.
One of the great things about this book is it is also written in multiple genres like the papers it discusses. While many of the chapters are still written in expository, other chapters are simply dialogue, plays, and even poems. I think that the fact that the book is put together this way really helped me to better understand what it means to write in multigenre. The explanations that Romano gives are great, so are the multiple examples of multigenre papers that he provides. Even so, it was almost comforting to see it used within a published book.
I loved the fact that Romano also provides information about how standards and grading interact with multigenre projects. He does a good job of explaining the way he grades multigenre projects, and especially how you can use them in conjunction with standards. This part takes up a very small portion of the book, but if you are nervous about anything that Romano talks about with multigenre papers/projects this section will definitely put you at ease. I really loved this book, and if you are curious about multigenre assignments I suggest that you check it out.